Our Ultimate Comparison: Keeping IT In-house Vs Outsourcing IT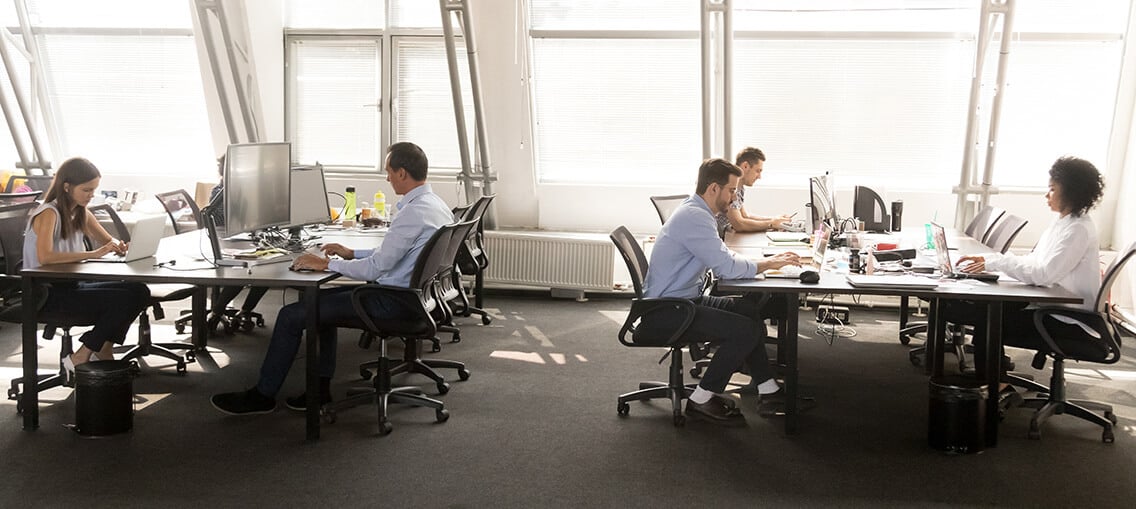 To outsource or not to outsource—that is the question for many businesses. Regardless of business size, whether you're a start-up or a well-established, large cooperation, you will need to consider how to best manage your IT. Will you hire staff to create your own in-house IT department or opt to outsource your IT support?
Of course, in-house and outsourced IT both have their benefits and drawbacks, and which option is better for you is entirely dependent on the unique requirement of your business. In order to help you make your decision, we're here to provide you with a thorough overview of the pros and cons of both options. This will help you better understand the options available to you, so you can make the best possible decision to help your business thrive.
Some of the key aspects of keeping your IT in house vs outsourcing IT we'll cover in this blog are:
Response Time
Business knowledge
Turnover
Level of expertise
Customer service
Cyber Security
Cost-effectiveness
Pros of in-house IT support
Ready to get started? Then let's dive in!
On-site team for immediate response
When managing IT issues internally, it is relatively easy to prioritise your response – and to track the progress of each. Because your team is generally based on the same site as your end-users, response times are generally quite short.
Understand your business
They are integrated into your business. Every day they work with your team to understand the value that each individual and each department provides for your business. They know what your business needs to make it run smoothly and boost your top line.
Know your people
Your IT team understands your people, your users, your customers, and your prospects. They have a deep understanding of your business goals and metrics of success.
Cons of in-house IT support
Expense and sickness
When hiring someone on a permanent basis, you're not just paying their monthly salary, there are also company benefits, pension, holidays and illness to think about too. Not to mention, management time and all the terms and conditions of employment. If one of your IT team is off sick, who will pick up the work that needs to be done?
Staff turnover
A star IT team member can be worth their weight in gold. But what if they leave and take institutional knowledge with them? They have access to all your critical information and infrastructure and, in some cases, are the only source of support for the business' applications, systems, and team members. You need to make sure your business won't be at risk if your key-person leaves – with outsourced IT, this is taken care of for you.
Gaps in skills and resource
In many cases, your in-house IT support provisions are limited by the knowledge and experience of your team, no one team member usually has all of the skills to meet every IT need in your business. Your in-house team may be great at solving user issues but have trouble with migrations to new software or hardware that streamline business processes, improve scalability, and drive flexibility.
Little scope for business development and security
In-house IT teams are often weighed down with fixing IT issues, leaving little room to develop and align your IT with business goals and keep up with security demands. Up-scaling is usually a straightforward proposition for an MSP, who make sure that your IT setup is future proof and easy to upgrade- right from the beginning.
Pros of outsourced IT support
Great customer service
With Service Level Agreements in place, you're likely to receive greater customer service, and therefore smoother and more fluid IT management. Adhering to tight deadlines, and with a full department at their clients' disposable, using an MSP means that issues will be responded to quickly and downtime is reduced.
Not only will you receive great service continuity, but MSPs also assess, audit and monitor systems on an ongoing basis to prevent more serious issues arising. With 24/7 management, every day of the year, you can be certain that your system is receiving the most attention and supervision possible.
Flexibility
IT outsourcing allows you to divide projects across a group of skilled experts for faster turnaround. With greater staffing flexibility, your business can scale IT resources depending on seasonal need or project workflow. MSPs look at your business needs and how to improve efficiency, they function more like a business partner than a department or support, making them critical to your business growth.
Efficient experts
A big advantage of
outsourcing IT
is the breadth of knowledge on tap; firms will have a deep bench of consultants with experts best suited for each job at hand. This means that less time is needed to complete and finalise projects, regardless of size. With the services of an MSP, you get access to an entire IT company's assets, allowing you to benefit from not only a range of IT staff but also their advanced equipment.
Cost-effective
You have a team of senior-level IT experts working for your business without paying each of their salaries. For an in-house team, you're likely paying their salary, benefits, training, device procurement, career development, and more. With a managed IT service, you won't need to worry about any surprise costs! With set fees every month, your budget management will be far simpler. You'll know exactly what service you'll receive, and how much you'll pay for it, regardless of sickness, holidays and other payroll issues that arise with a salaried employee.
Plus, you're also likely to benefit from reduced prices for your hardware. Due to economies of scale, and existing relationships with manufacturers and suppliers, MSPs can typically get better deals on equipment – and that means so will you!
Robust cyber security
Cyber security is an essential part of your IT management. Have you simply been relying on antivirus software to protect yourself and your company's data? You won't any longer! An MSP will use the best security and antimalware tools across your whole network to keep your data protected and you'll also benefit from their more robust infrastructure, which is under constant monitoring and management.
Often with cybersecurity, there is a level of education needed within an organisation so that team members can spot malicious emails or attacks. A good MSP will make sure you and your team are trained in house and shown how best to prevent future malware threats.
Read our blog on "What are the main benefits of Managed IT services for your business" for more benefits of choosing a managed IT service.
Cons of outsourced IT support
Potentially longer response time
The downside is that they are not on-site, meaning that if there's a hardware problem, the issue may not be resolved immediately.
The downside of outsourced IT services is that they are not on-site, meaning that if there's a hardware problem, the issue may not be resolved immediately.
Lose some control
Since you outsourced IT partner won't be working on-site, it can be difficult to maintain the level of control you might desire. However, as long as you get to know and can trust who you've hired, this shouldn't be an issue.
Lack of internal familiarity
You may think that outsourced IT consultants lack the necessary familiarity with your IT infrastructure compared to an internal team. However, a good IT partner will become well versed in your business and its infrastructure prior to on-boarding to ensure a smooth transition.
There is, of course, the option of a co-managed solution which offers the perfect middle ground of support for your IT function, if your budget doesn't quite stretch to the fully managed model. Read about the benefits of co-managed IT services, or check out our service offering.
Take IT off your plate with Netitude
Have you decided that outsourcing your IT is the right call for you? Then we're here to help! We offer IT services to keep your operations running smoothly, so that you have time to focus on doing the work that matters. Whether you're looking for fully outsourced IT services or simply need an extra hand to support your internal team, get in touch with our experts today to see how we can help you.