Both platforms are relatively new and have seen rapid developments over the last few years, growing an impressive number of users and features!
Microsoft Teams is a collaboration tool designed to improve internal communication. Zoom is a web conferencing software that aids high-performance video and audio conferencing both internally and externally.
Which is better for business, Microsoft Teams or Zoom?
It's hard to make an informed decision without knowing all the facts. So, let's start by looking at what they have to offer.
What are the pros of Microsoft Teams?
Part of Office 365
If your company already has an Office 365 subscription then there are no additional costs for Microsoft Teams.
Zoom is relatively inexpensive, however many of its features are an 'add-on', which when used, can result in the cost of Zoom quickly rising.
Integration of many collaboration tools
Recent updates made to Microsoft Teams included a whole load of integrations that allow the platform to integrate with other communications software tools, outside of the Office bubble. At its core, Microsoft Teams is a robust chat service that allows users to communicate quickly without setting up a conference. The integration between Teams and Office 356 allows it to truly be a one-stop-shop for many businesses. The link allows for seamless and secure realtime collaboration, backups, calendar support and file search, all in one place.
A key strength of Zoom is how easy it is to communicate and collaborate. Microsoft has worked hard to match the collaboration features of Zoom with smart integrations that make for easy content sharing.
Handy extensions to the chat tools
Using Teams doesn't mean you have to change your existing workflows or drop the tools that you already use. Microsoft Teams makes it easy to add third-party apps Trello, Google Drive, and Dropbox right into your chat channel in Microsoft Teams.
Teams introduced "Bots" to help with repetitive everyday admin talks. This means admins can use the bots to save time and take care of everyday tasks while the work. Admins can also easily create their own bots
Seamless Collaboration, Backups and File Search
Other key features which make Microsoft Teams a contender in the all-in-one conferencing marketplace are the tools that enable participants to easily share content during a meeting. Each channel comes with its own file storage and one-click features make it easy to find, share and work collaboratively on files.
Security
If you want to video conference, share and collaborate in a secure environment, Microsoft Teams is your answer. Their security practices might mean that adding people from outside your organisation takes more time but this also makes it more secure. View Microsoft Teams security and compliance overview.
When it comes to security, Microsoft Teams is a clear winner over Zoom, who have had multiple security issues over the last few weeks.
What are the pros of Zoom?
Ease of use
If you're looking for a multi-device communication tool that offers slick collaboration with your partners and clients, Zoom might be the answer. Zoom's easy to use, high-quality, video conferencing platform is one fo the key reasons it has grown in popularity over the last few months. The simple (but basic) interface means end-users are up and running with little to no training or IT support. Zoom enables video conferencing, cloud conferencing, wireless content sharing, virtual meetings, file sharing and audio or video chat, on any device, typically with just one or two simple clicks.
Integrations
Zoom can be integrated with many other leading communications platforms and collaboration tools to improve file sharing, scheduling and starting meetings, unifying login, and even marketing automation. Zoom has a wide variety of supported software integrations including Microsoft Teams, OneDrive, Google Drive, Slack, Salesforce, Outlook, HubSpot and more.
User visibility during calls
A feature that Zoom dominates in, is the ability to have 49 users on one screen at a time – making it highly desirable for big meetings. This feature alone was what helped Zoom's popularity grow and competitors are starting to catch up.
During a Teams video call, you can currently only view 4 faces on the screen at a time, who's faces you see is dependant on who spoke last. However, this will be increased to 9 by the end of April and they have made plans to continue to develop this further.
Scalability
Zoom offers a whole host of features and capabilities that allowing it to adapt to your business needs. So, if you're looking for a video conferencing solution with room to expand its capabilities, it's difficult to beat Zoom. Have 49 faces on one screen during a group video (Microsoft Teams currently allows 4, 9 at the end of the month) and host Webinars for up to 10,000 people.
Pricing
Microsoft Teams and Zoom each offer a free version of the platform, with more advanced features offered with paid plans.
You don't need a Microsoft 365 subscription to use the free version of Microsoft Teams. Features include limited chat and collaboration, productivity apps and services, meetings and calls, and security, for up to 300 users.

Picture from the Microsoft website.
Zoom's free version includes meetings that can host up to 100 participants (with a 40-minute limit on group meetings), unlimited 1:1 meetings, online support, as well as video and web conferencing features, group collaboration features, and security.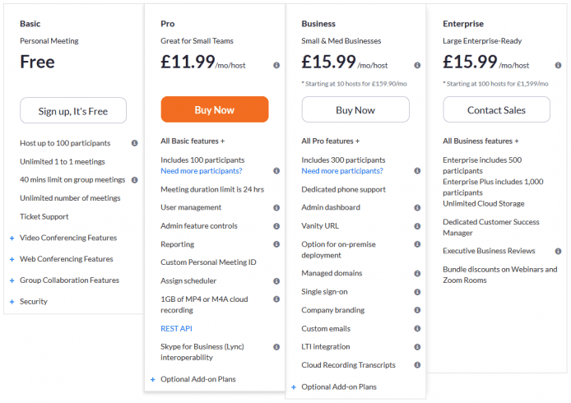 Picture from the Zoom website.
Which is right for your business?
Both Microsoft Teams and Zoom have a lot to offer for those in search of simple and effective collaboration tools. You can use each platform to build a comprehensive environment for communication, complete with integrations, and even telephony too. Before you make a firm decision on which to pick, why not test out the free versions of Microsoft Teams and Zoom?
Thanks to its tight integration with Office 365, Microsoft Teams is perfect for internal collaboration. It offers easy chatting and channel solutions, great for keeping your team on the same page. Alternatively, Zoom is more appealing for those who work with external collaborators, offering links to easily access meetings. But beware of its recent security breaches and "Zoombombs". Be sure all users enable 2FA and set the following settings when hosting meetings.
Not sure what 2FA or MFA is? Check out this blog post.
While both platforms have a wealth of integrations that give them the option to become an all-inclusive solution for video conferencing, there is no reason why you can't use both. Microsoft Teams and Zoom integration means you can take advantage of the key features in both tools, all you need to do is create clear scenarios for users on which to use when!
If you require further assistance from an IT professional or have a question, please get in touch. We'd love to help in whatever way we can!